A few days ago I wanted to do an easy sewing project to give as a baby gift for a friend's baby shower. I know that babies of a certain age are really into textures, so I decided to make a set of two blocks with various textures among the different sides. I was able to make them using all materials I had on hand, but if you have to buy the sewing supplies it would be very inexpensive ($5-10, depending on how many Joann's coupons you're taking advantage of).
Skill level: The below sewing tutorial would be a great project for a beginning sewer.
Time commitment estimate: 1-3 hours depending on experience.
To start: Machine washable fabric is crucial for this project since the baby will inevitably be chewing on the blocks and they'll eventually need to be thrown in the washer. Make sure all fabric is prewashed before you cut it so you eliminate any weird shrinking that might happen after it's sewn and then washed.
Sewing supplies you'll need (below links are to Amazon if you want things delivered to you, otherwise Joann's will have everything you need):
1. Fabric – Each piece is 5″ square, so you'll either need 12 differently patterned pieces that are 5″ x 5″, or to have matching sides you'll need a single bigger piece of fabric that's 1/4 of a yard. This would be a really cute option if you, or the parents of the tyke you're making these for, is as into dogs and puppies as I am. Plus it would be way more than you need, so you could save it for a fun sewing project later on.
2.  Pillow stuffing – This is what I have in my craft bin.
3. Ribbon – Each piece is 5″ long and folded in half, so depending on how many ribbon tabs you want will determine the end amount needed. This would be a great idea for getting multiple colors without needing to buy a whole spool. Or you should be able to get ribbons cut by the yard at your nearest craft store.
4. Thread – The only thread I use is Gutermann. Other brands have the little lip that always gets caught when I'm sewing and it drives me crazy. This would be a good investment if you need various colors for future projects as well. Otherwise just get a spool that matches your fabric.
5. Sewing machine – This topic requires a whole other post. See here for some suggestions.
6. Scissors – Invest in a decent pair of scissors (not expensive, just decent) and then don't let anyone else use them. I had a sewing instructor in school harp on that constantly – everyone puts pressure in different areas of the scissors and you don't want your alignment to get messed up. Fiskars is my brand of choice, and this pair looks like a great place to start. Also, don't use them for anything except fabric. They'll get dull quicker and there is nothing worse than trying to cut fabric with dull scissors.
7. Needle for hand sewing the hole closed at the end. I bought this same set about 12 years ago and it's still what I use every time. Just make sure and put your needles back after each project and you'll never need to buy more.
Seam allowance: 1/2″
Step 1: Cut out all 12 5″x 5″ squares and all 5″ ribbon pieces. I chose to do 2 identical blocks, but you can do any combo that strikes your fancy.
Step 2: Fold each ribbon piece in half and pin to the pieces you want. To keep it simple I attached all ribbons to 2 different squares.
Step 3: Using a 1/4″-3/8″ seam allowance, sew all ribbon tabs to the square they're pinned to. (A more narrow seam allowance will ensure you won't see this stitching on the completed project.) Sew forward and back over each ribbon three times to make sure they won't come loose.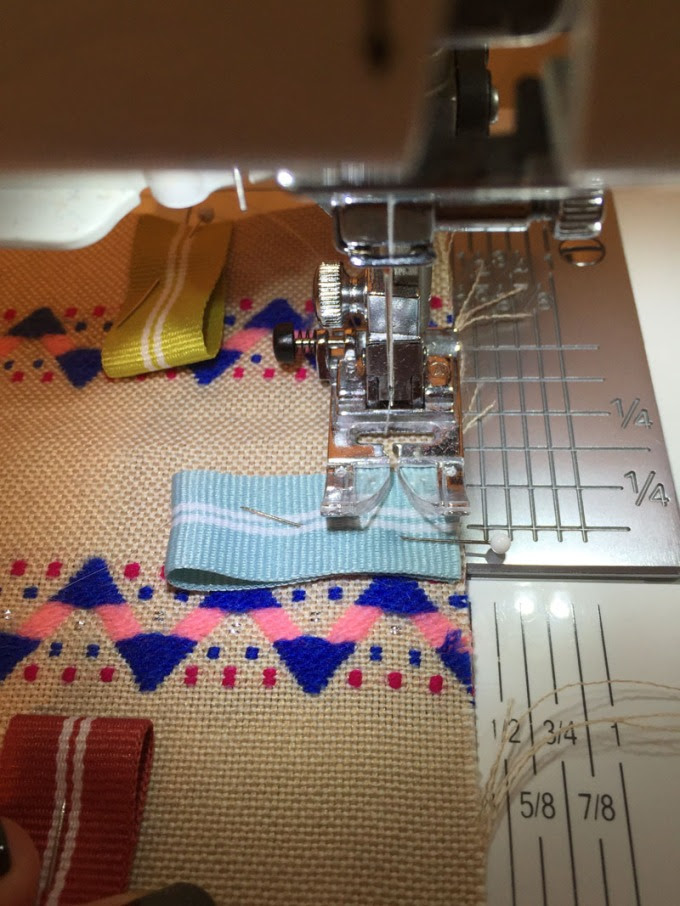 Step 4: Turn all pieces over and use a ruler and chalk or a pen to mark each corner 1/2″ in on the back of each piece. This will help when sewing so you know when to stop and back tack.
OPTIONAL: To make one side of each block personalized, cut out a heart and the appropriate letter. Add the heart and sew with matching thread. Then add the letter and sew with matching thread. Slideshow below:
Step 5: Pick two pieces with no ribbon tabs to sew to the pieces with ribbon tabs, making sure to stop at the 1/2″ marks you made. Back tack.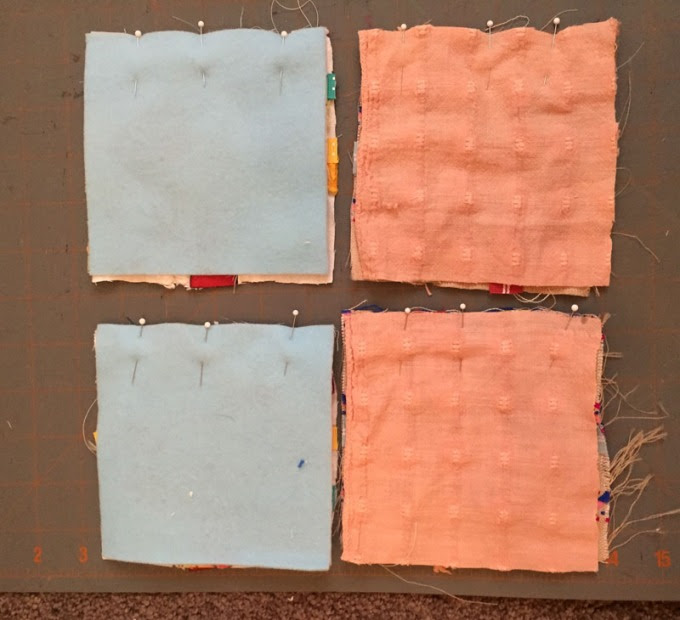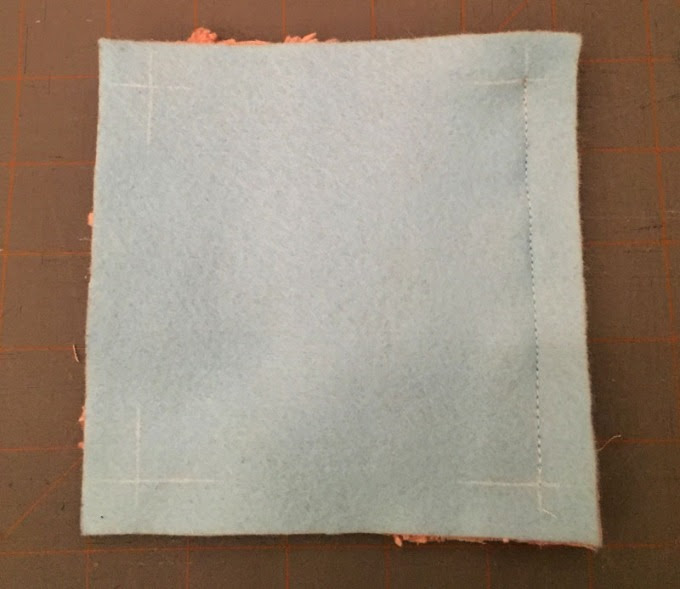 Step 6: Repeat with two more squares.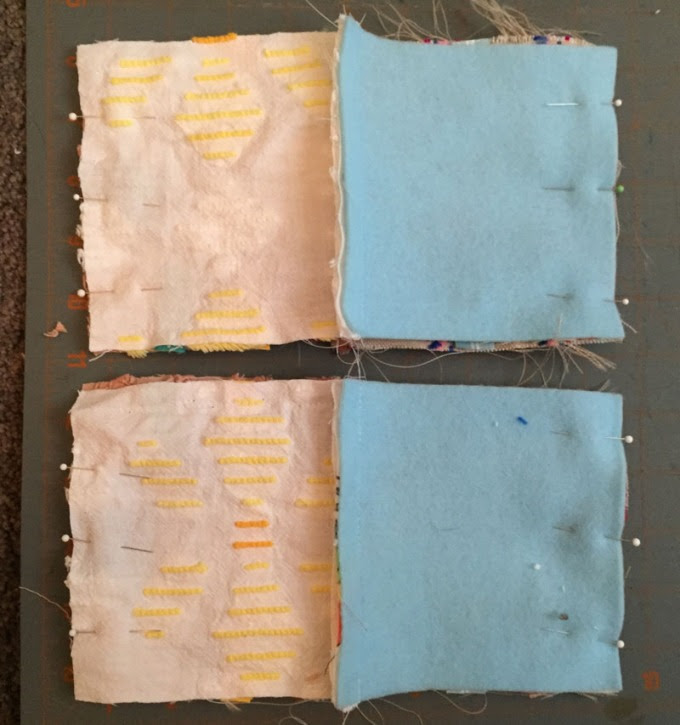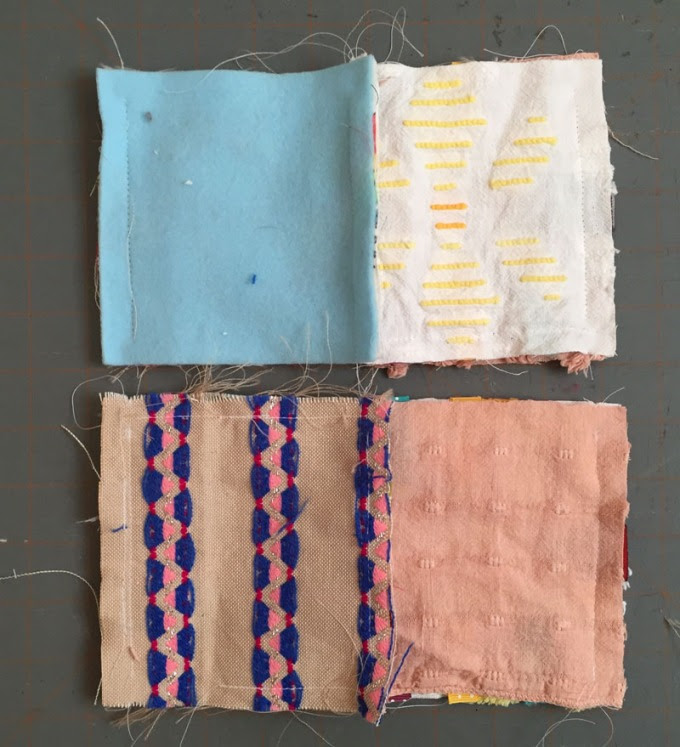 Step 7: Pick one end cap piece and pin to open end of cube. Sew closed.
 Step 8: Pin remaining end cap piece, leaving most of one side unpinned. Do not sew this part closed, because you'll need it to turn the cube right side out. Sew three sides closed.
 Step 9: Turn cube right side out.
Step 10: Fill with pillow stuffing.
Step 11: Pin closed and slip stitch shut. Sew back over the opening at least one more time to make sure the hole won't open up. You can also machine sew the opening shut if you want. It won't look as clean, but it's a more durable way to finish it off.
That's it! Your easy texture block sewing project is complete and now you have a sweet baby gift handmade with love.
[metaslider id=78]
Pet side note: I have two dogs and a cat and they are always up in my business when I'm trying to be productive. I let them hang out with me while sewing…until a certain point. After the 6th time of telling myself, "but they're so cute though!", when one of them has knocked something over again, I tend to gently push them out and tell them to go bother my husband. Outtakes from this project: